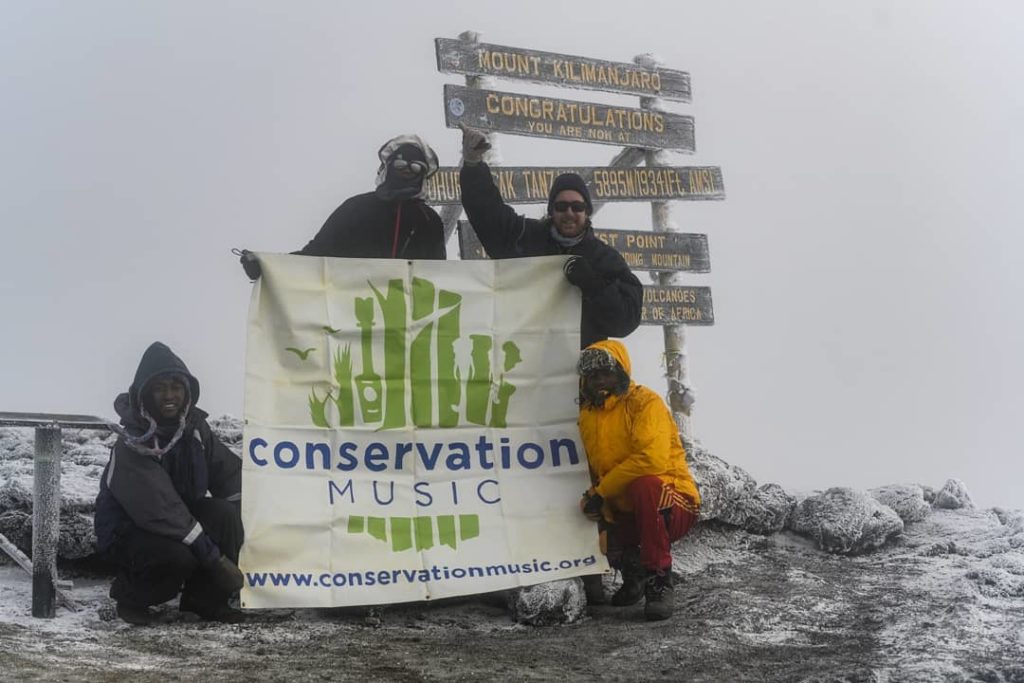 Mission Accomplished!
All composition, recording, and filming for Expedition #K2K's 13 songs and videos are complete, and we have successfully completed our sea to summit journey from Cape Town's drying coast to Tanzania's melting glacier. We are so grateful for all of the support we have received along the way, we could not have done this without you!
Here is a list of just a few things we have accomplished this year with your help:
45,000+ photos taken

20,000+ hours worked by 20+ volunteers

400 days on the road

260 hours of footage

150+ supporting individuals and groups

30 new artists/groups

25 organizational partnerships

22 Interviews

20+ new volunteers from 13+ countries

13 songs and 13 music videos

12 terabytes of digital media

9 countries impacted

4 local chapters: Lesotho, Zambia, Malawi, Tanzania

4 international conferences – CGSS, EEASA, OYW, UNEA

3 school visits

2 community workshops

1 hit song in Zambia, "

Samalilani

" comes on TV daily

1 article with Thomson Reuters Foundation, pending publication
Gratitude
We want to extend our deepest gratitude to all of the individuals and organizations on our route who have supported this long journey however they could. Please find a list of these incredible souls below. Friends and supporters abroad, you know who you are, and we love you!
Cape Town, South Africa
Africa Sun Studios
Amandla Development
Buck Rogers
Chuma Mgcoyi
Cuan Thomas
Devon Concar
Explore4Knowledge
Gershan Lombard
Greenpop
Jack Mantis
John Lucas
Misha Teasdale
Paulo Costa
Phil Pells
Rob Coutts
Susi Bayer
Yugesh Pillay

Lesotho
Conservation Music Lesotho
Lerato Lesoetsa
Mosa Theko
Professor Mokuku
Rebel Sol
Reekelitsoe Molapo
Village of Tlokoeng

eSwatini
Bholoja
Black Rhino
Buddy Masango
Bushfire Festival
Jiggs Thorne
Pachanga
Qibho Intalektual
Robert Grenoble
Sands
Smiles Makama
Toby Matoskah Allison
Velemseni

Gauteng, South Africa
Albert Craftsman
Gally Ngoveni
Haikuu
Hanneke Van Linge
Jake Taylor
Nosh Food Rescue
Thabiso Thabethe
Tribute "Birdie" Mboweni

Botswana
David Sandenbergh
Gaone Ranthloiwa
Helene Forward
Leeroy Nyoni
Matthew Lee Merritt
National Geographic Okavango Wilderness Project
Old Bridge Backpackers
Patrick John
Stanley Kaseke
Stiger Sola
Tomeletso Sereetsi

Livingstone, Zambia
Frank Tyrol
Heather Coltman
Uncle Ben Mibenge
Wayne Emmanuel
Yes Rasta!

Hwange, Zimbabwe
African Bush Camps Foundation
Fadzai Muungani
Main Camp Primary School
Mambanje Community
Ms. Rebecca
Mwachayingwe
Polite Chipembere
Stanley Mutatisi
Tormenta
Harare, Zimbabwe
Dr. Oliver Mtukudzi (Rest In Peace)
Leroy Gora
Ngoma Nehosho
Tom Brickhill
Tuku Music
Walter Wanyanya

Lusaka, Zambia
African Education Program
Brian Mutale
Chanda 'Chanx' Musanya
Edwin 'Nyno' Kabeba
Elvie Njeka
James Sakala
Joy Mweemba
Julie-Anne Savarit-Cosenza
Maureen Lilanda
Mr. Champs
Pompi
Shaps Mutambo
Students of Amos Academy
Theresa N'gambi
Time Lyne Entertainments

Malawi
Faith Mussa
Farhai Masamba
Jeremiah Chigwenembe
Judah Mkandawire
Kelvin Before Gumbi
Kim of Diamonds
Lilongwe Wildlife Trust
Matthew Mphande
Ndaba Nyanda
Sangie
Suffix

Dar Es Salaam, Tanzania
Beka Flavour
Jaymondy
Lucky Stone
Minister January Makamba
Nana Paul
One The Incredible
Shubert Mwarabu
Students of TaSUBa
Tania and Hamish Hamilton
TaSUBa College of Arts
Darsh Pandit
Wanene Entertainment
Zanzibar
Dhow Countries Music Academy
Dipesh Pabari
Finnegan Flint
Flipflopi Expedition
Lorenz Hermann
Sauti za Busara Festival
Siti and the Band
Stone Town Records
Yusuf Mahmoud

Arusha, Tanzania
CAC Fusion Band
Daz Naledge
Ellisha James
Michael Moshi
Mtingo Traditional Band
SUA Music Movement
Tumaini University
Makumira Cultural Arts Centre (CAC)
New Board Members
It is also our pleasure to introduce you to four new members of our global board of directors, helping our movement to grow in the most balanced and sustainable way possible for the next two years and beyond! If you are interested in a board position or know someone who would be a good fit, please don't hesitate to reach out to info@conservationmusic.org.
Reekelitsoe Molapo
Reekelitsoe Molapo is a 25-year-old social entrepreneur from Lesotho with over 3 years' experience in the field. She is an environmental activist who is passionate about education, sustainable development, and responsible production and consumption. She is versatile and multi-skilled; with training in research, entrepreneurship, energy, leadership, and African studies. In the past she has worked and volunteered with organisations like the Global Business Roundtable, MM-Holdings, World Vision, US Embassy and EU Maseru amongst many; which equipped her with various skills. She believes in sustainability and doing impactful business and this led her to found Alternatives Co; a green start-up that provides eco-packaging, biofuels, and clean energy gadgets.
Outside of her professional work, she works closely with Lesotho's Ministry of Gender and Youth in their various youth programs and has co-founded Conservation Music Lesotho and Educate Your Peer Foundation which are organisations centered around community and youth development. She recently completed a short leadership course with the University of Cambridge and has plans to pursue studies in social entrepreneurship this year. She is a One Young World Ambassador, a Pitch at Palace Commonwealth alumni, a YALI RLC alumni, a Queen's Young Leaders Awardee and a Tony Elumelu Entrepreneurship Awardee.
Katie Kendall
Katie has 7 years of experience in helping organizations and businesses succeed to accomplish their business goals. Focusing predominantly on organizations in the Agriculture and Agribusiness sector, she has experience in research, project management, financial analysis, organizational coaching, and leadership coaching. Her educational background includes an Undergraduate degree in Environmental Sciences, as well as a Masters degree in Agriculture Sciences, where she completed a research-based thesis on the use of crop waste to produce biofuels.

Currently, Katie is considering transitioning into a career in teaching with the hopes of having more flexibility and impact around the world. Her passion for international development led her to spend 2018 working as an advisor with Care International in Mozambique, where she advised on a 5-year Malnutrition project. This is where her path crossed with Conservation Music.
Katie is an ex-varsity level athlete, photographer, trained royal conservatory musician, and an avid public speaker and facilitator.
Jon Fleming
Jon has over 25 years of leadership and management experience inside Fortune 50 and start-up companies in wireless telecom, payments, media, advertising, and software. He has had executive leadership roles in strategy, marketing, sales, business development, product management, software development, and operations. Jon has extensive international experience managing in multi-cultural environments in Latin America, Western and Central Europe, the Middle East, and Asia. A Ten-year military veteran, Jon is a decorated USMC officer and aviator.

Currently the Vice President and Country Manager of Audible Canada (an Amazon company), he has responsibility for P/L, strategy, marketing, business development, operations, content acquisition, and programming development, and Corporate Social Responsibility. Jon is also a founder and Chair of the Global Advisory Committee for James Madison University's Center for Global Engagement, whose mission is to broaden worldviews and promote global understanding for the JMU community by cultivating, facilitating, and supporting global engagement at home and abroad.

Originally from Washington, D.C., Jon is a proud graduate of James Madison University with a degree in Foreign Languages. He was also an International Management Fellow while obtaining a Masters of Business Administration from the Anderson School at UCLA. Jon resides in Seattle, Washington with his wife and fourteen-year-old boy/girl twins. They also have a son who is a freshman at JMU. In his free time, Jon enjoys live music, open water swimming, watching Charlie's Angels re-runs, and skiing.

Mac Thayer
Mac Thayer is the founder and executive director of New Business Associates, Startup Virginia, and the Junior Golf Scoreboard, a website designed to give players, parents, and coaches easy access to information on the world of competitive junior golf worldwide. He attended St. Lawrence University and served as an officer in the United States Navy before attending the renowned Wharton School of Business at the University of Pennsylvania. Mac is an experienced business mentor and has previously chaired many boards.

As the chairman of the Conservation Music board, Mac brings to the table not only a wealth of experience and knowledge but also a great deal of passion to deal with Climate Change, which he sees as the greatest challenge of our time. Having witnessed the inspirational and catalytic power of music firsthand during the Vietnam protests, he has no doubt that music is an answer.

Stay Current with CM & Donate
If you would like to support the next stage of Conservation Music, bolstering our new local chapters and their partnerships with NGOs and government, developing handbooks and materials to enable exponential growth of the movement worldwide, and creating new and innovative types of educational content, please consider becoming a monthly patron at any level, or make an individual donation below.
This post was written by Charles Ross for Conservation Music
About Conservation Music
Our Musical Nonprofit For Conservation
Facebook | Twitter | Instagram | Linkedin
info@conservationmusic.org
Conservation Music is on a mission to produce and promote musical media that educates listeners and viewers in conservation and sustainability, with an emphasis on rural developing communities, and to serve as a platform for similar efforts. Currently, the organization primarily collaborates with musicians throughout Southern Africa, catalyzing songs in local genres and local languages regarding local conservation issues in countries like Lesotho, Botswana, Angola, and more.
About the Editor
Alex Paullin
Facebook | Twitter | Instagram | Linkedin
info@conservationmusic.org
After years of soul-searching and months in the African wilderness with the National Geographic Okavango Wilderness Project, musician and geographer Alex Paullin combined his foremost passions and founded Conservation Music, a non-profit aiming to foster a global culture of sustainability using music as the messenger. Throughout his life, he aims to expand the Conservation Music movement globally, in hopes that his lifetime will see and hear songs of conservation being sung throughout the world.